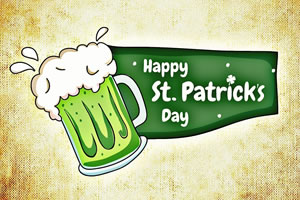 St Patrick's Day Sydney paints the town green with Sydney having one of the biggest Irish and Australian Irish communities outside of Ireland. In fact the Sydney St Pats family celebrations and march are even supported financially by the Irish government. It is one of the biggest Paddys day events worldwide outside Ireland.
Sydney is such a gorgeous city with the Sydney Harbour at it's stunning centre piece. So a lot of fun can be had on the waters of Sydney Harbour. Could it be a St Paddy's day on a Sydney Ferry or finding a restaurant or hotel with an Irish theme twist for March 17th. It might be that you have to take your own Green theme where ever you go in Sydney on St Patrick's Day. But do get involved and enjoy St Pats Day in Sydney. Happy St Patrick's Day Sydney!
Just click on the events for more details.
St Patrick's Day Sydney Ideas
Come and enjoy the Harbour city St Pats Day celebrations!
Ideas for Celebrating St Patrick's Day in Sydney
Looking for somewhere to get in the irish spirit this St Pat's Day? Check out our quick guide for some of the best locations in the harbour city for St Patrick's Day.
| LOCATION | VENUE | EVENT | COMMENTS |
| --- | --- | --- | --- |
| Sydney | P.J. O'Brien's | St Patrick's Day Sydney | Great Irish food, drinks and music to celebrate Paddy Day in Sydney town. Breakfast, lunch and dinner for this special day of celebration. Central Sydney location. |
| St Leonards | Gilroy's Hotel | St Pats Day | Come and have a tipple this 17th March to celebrate with the Irish Green! Families and friends all welcome. |
| Balmain | Riverview Hotel | St Patrick's Day | Pop on into the Riverview Hotel on St Patrick's Day for some great Irish Drinks and Food. Enjoy a sip of Guinness, Bulmers, Magners or Jamieson as you chow down on one of the Riverview's traditional Irish dishes including Seafood chowder, Irish sausages and mash, Beef and Guinness Pie and more. |
| The Rocks | Mercantile Hotel Irish Pub | Paddys Day at the Rocks | Iconic Sydney Irish pub with great food and beverages, celebrating all the fun of St Patricks Day. Stop a while for the live music and enjoy the lunch and dinner menus and wash down with a Guinness in an awesome Sydney location. |
| Emu Plains | O'Donoghues Irish Pub | Saint Pats Day Celebrations | Close to the Blue Mountains to the West of Sydney. And inviting and warm hotel full of Irish surprises. Enjoy the Irish hospitality with great food and drinks and entertainment on March 17th. |
| Surrey Hills | Porterhouse Irish Pub | Cosy Paddys Day | Go on, try a beef and guinness pie. Lots of fun. Great location in Surrey Hills close to Oxford St. This venue also has accommodation. Cosy and traditional is sure to please. |
| Sydney | P.J. Gallagher's | Paddy Day | Serving great Irish food and drinks. A fab city location at the Criterion Hotel. Will be a fun place to be on 17th March. |
| Moore Park | P.J. Gallagher's | St Pats Day | A great warm place to meet near Moores Park. Guinness will be pouring on March 17th! Great celebrations in store including live music and grreat food. |
| Rouse Hill | The Fiddler | St Pats Day Celebrations | The marquee day of Paddy's Day is not to be missed at the Fiddler. Serving good times and fun. Beer garden available aswell. |
| Surrey Hills | The Wild Rover | Paddy's Day Fun | A chic Irish folk barn or a mash up of that. Live music, Guinness and plenty of good times. |
| North Sydney | The Rag and Famish Hotel | St Patricks Day | Guiness on tap. Come for a pint and celebrate the green fun of Paddys Day. Good food and dining available. |