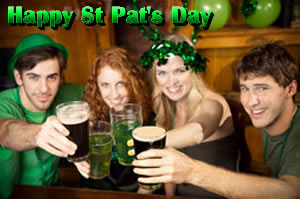 St Patrick's Day Melbourne has all the hallmarks of a super fun Big Day. Melbourne has many a fine Irish establishment with some twenty or more Irish hotels in Melbourne city alone. Add to that the many venues that put on St Patrick's Day themed events and Melbourne goes very green every 17th of March! We scoured the cobbled streets to find some of the Paddy's Day events to be part of including fine dining, restaurants and parties.
So make sure you get some green clothing on, look for some clover, and maybe wear a sparkly tinsel green hat on your head. Now get out and about this Paddy's day. Melbourne venues will go green even if they just serve Green beer! But we are sure you will have fun with spuds and Guinness all over town this St Pats Day! Enjoy being green on St Patrick's Day Melbourne.
St Patrick's Day Melbourne Ideas
Come down Melbourne town on March 17th and celebrate the Irish cultural day. Get some Craic happening this Paddy's Day. Whether it's in the CBD or along the Yarra River or in Melbourne's suburbs we hope you enjoy the Green Irish ideas for fun!
St Patrick's Day

A tradition in Melbourne is the awesome Irish Breakfast at P.J. O'Brien's in Southbank. Simply sensational. But book quickly! There'll also be LIVE Irish entertaining and St Patrick's Day food & drink specials all day.

Big Irish Breakfast: $30 ($15 for the wee ones)

Website

|

Email

St Patrick's Day at Hopscotch

Join the team Hopscotch for some St paddy's Day Celebrations. Enjoy a pint of Guinness, Irish Step Dance to LIVE acoustic music from 5pm -8pm and have some fun with the Shamrock shuffleboard!

$10 Guinness Pints All Day

Website

|

Email

St Patrick's Day

Head into Turf Bar this St Patrick's Day where the Guiness will be flowing, the Irish music will be playing. Chow down on an Irish inspired food menu to help you celebrate all that the emerald isle offers and paint the town green.

Irish Inspired Food Menu | Live Irish Music

Website

|

Email

St Patrick's Day Irish Breakfast

Kick off St Partick's Day with a hearty traditional Irish Breakfast at BearBrass located right on the Yarra. A sure fire way to get in the irish spirit. With a Guinness Pop Up Bar operating all day it'll be a Happy St Pat's Day indeed.

Irish Breakfast

Website

|

Email

St Patrick's Day Drinks

Kick back in the Main Bar this St Patrick's Day at Euro with $10 Pints of Guinness all day long. Head to the Rooftop for $10 Cans of Guinnesss. So head on into Euro and give a toast to the Irish this St Patrick's Day.

St Patrick's Day Guinness Specials

Website

|

Email

St Patrick's Day Accommodation

Enjoy an overnight stay at the Amora Riverwalk this St Patrick's Day. Located right on the Yarra River and only a short tram ride into the city along Bridge Rd so you'll be close to all the St Patrick's Day events and festivities. Take the hassle out of making your way home with a night at the Amora Riverwalk.

Fantastic Accommodation By the Yarra

Website

|

Email

St Patrick's Day

Enjoy St Paddy's Day in Richmond at the Richmond Club Hotel. They'll be some fantastic Irish Food and Drinks Specials including traditional favs like Irish Stew plus from 5pm be entertained by LIVE acoustic music. Let the Richmond Club Hotel meet all your St Patrick's Day needs.

Irish Food & Drink | LIVE Acoustic Music

Website

|

Email

St Patrick's Day

Head down to the Docklands on St Patrick's Day and enjoy a Guinness at Platform 28 available all day long with some Irish delights to mark the special occasion. Plus a full Irish Breakfast with Pint of Guinness for just $20!

Guinness Specials & Irish Delights All Day

Website

|

Email
Ideas for Celebrating St Patrick's Day in Melbourne
Looking to deck yourself out in green and joining in the festivities this St Patrick's Day? Check out our quick guide for some of the best locations in Meblourne for St Patrick's Day.
| LOCATION | VENUE | EVENT | COMMENTS |
| --- | --- | --- | --- |
| Southbank | PJ O'Briens | Paddy Day Dining and Celebrations | Hurry people as this Melbourne Irish institution sells out every year for it's famous Irish Breakfast. Then Irish celebrations all day near the Yarra River with LIVE Irish Music, Irish Lunch and more. |
| St Kilda | Acland St Plaza & O'Donnell Gardens | St Kilda St Patrick's Festival | On Sunday the 15th head into St Kilda to experience the best of Irish Community Culture with street performers, Irish food, Irish dancing & live music at this family friendly event on the Acland St Plaza from 10am to 3pm. For more LIVE music from a headline Irish International act and Australian Irish Bands you can also enjoy the ticketed LIVE Irish Musics Festival from 12pm in the O'Donnell Gardens. |
| Fitzroy North | Edinburgh Gardens | St Patrick's Family Fun Day | Head to the Edinburgh Gardens on Sunday the 15th for a Free Festival celebrating Irish Culture. Festivities for the whole family from 12pm to 5pm. Enjoy Irish music both contemporary and traditional plus Irish Dancing, Sport and Activities for the Kids. Bring along your favourite Irish food for a picnic with the family or try some of the great Irish delights on offer. |
| Flemington | The Quiet Man | St Pats Day Street party | Famous for it's great hospitality and funtastic street parties on Paddy's Day. Live Irish bands and Irish dancers all making for a Green Fun Day! |
| South Yarra | Bridie O'Reillys | Come to Celebrate Green | Green is fun on St Pats Day in South Yarra. Lots of Paddy's day promotions all day. |
| North Melbourne | The Celtic Club | Moved but still Green | Now located out at the Metropolitan in North Melbourne this is Australia's first Irish Club! Great fun on St Pats Day. |
| Melbourne | The Irish Times | Celebrate being Irish | A little piece of Ireland in Melbourne. Come and celebrate St Pats Day. |
| West Melbourne | The Drunken Poet | The best of being Irish | Come Paddy's Day the green fun is on centre stage. Lots of specials and great food and refreshments. |
| Melbourne | The Last Jar | Authentic Paddys Day Celebrations | Great fun at this Irish venue with fabulous drinks and food available. Entertainment. |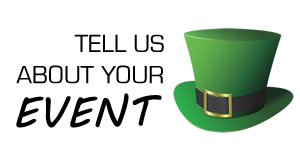 More St Patrick's Day ideas
A big breakfast is in order for Paddy's Day and if at home a little planning is always good in the days before and black pudding needs to be on the menu! And when heading out and about in Melbourne don't forget your distinctive Irish accent. To be sure, to be sure!
More Big Days for Melbourne
After the green dream of March 17th comes Easter. Yes the next Big Day on the calendar is Easter Melbourne style.